Clams and malunggay soup with coconut milk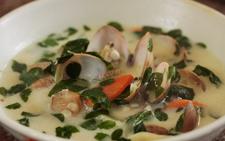 Description
Ingredients
1 kilo of Freshcatch clams (washed, soaked overnight in water, washed thoroughly several times and drained)
3 tbsps. of cooking oil
2 shallots, thinly sliced
1 thumb-sized piece of ginger, thinly sliced
4 cloves of garlic, finely minced
1 carrot, cut into thin rings
3 c. of malunggay leaves
2 c. of coconut milk
patis (fish sauce) to taste
freshly ground black pepper
Heat the cooking oil in a large pot. Saute the onion, garlic and ginger until fragrant, about two minutes. Add the malunggay leaves and cook, stirring, until wilted. Most cooks add the malunggay leaves after the clams and water has been added but, depending on the maturity of the malunggay leaves, they can take several minutes to cook. If the clams are already in the pot, they will get overcooked. So, I make sure that the malunggay leaves are almost done by the time I add the clams. I so hate overcooked seafood.
When the malunggay leaves have wilted, add the carrot slices. Pour in three cups of water. Bring to the boil. Pour in the coconut milk. Season with patis. When the mixture starts to boil, add the clams. Wait until the liquid boils, count two minutes then turn off the heat. Add freshly ground pepper and serve at once.
Summary
| | |
| --- | --- |
| Yield | |
| Prep Time | 20 minutes |
| Recipe Status | Featured |