Tuna Belly Steak w/ Lemon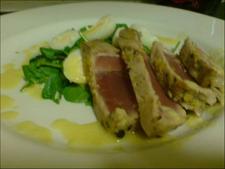 Description
Tuna Belly Steak w/ Lemon best for any occasions
Summary
| | |
| --- | --- |
| Yield | |
| Prep Time | 5 minutes |
| Recipe Status | Featured |
Ingredients
2 sli tuna steaks
zest lemon
pepper
6 salt
quail eggs
500 mg extra virgin olive oil
50 mg lemon juice
2 tbsp dion mustard
Directions
This is a kind of stripped-down, elegant salad nicoise and I think it makes a lovely starter. The peppery watercress and sharp dressing are perfect with the just-hard boiled eggs and tender tuna.
1. Prepare the dressing by mixing all ingredients and mixing well (say, by shaking in a jar). Re-shake just before serving.
2. Hard boil the quail's eggs - just - add to boiling water, turn the heat off after a minute and remove after 40 seconds. Allow them to cool and peel.
3. Season the tuna steaks all over with the lemon zest, the salt & pepper.
4. Heat a little cooking oil in a good non stick pan on a high heat. Add tuna steaks and sear for about 30 seconds to a minute each side - also briefly sear the sides of the tuna, holding it carefully, so that it's evenly cooked all over.
5. Allow tuna to cool then slice - serve sliced with the eggs, halved, the watercress and the dressing.